Active fitness circuit, Les Escoumins
Discover an active fitness course on the shores of the majestic St. Lawrence River in Côte-Nord
Training on the shore of the St. Lawrence River
Discover a facility located on the Sentier du Moulin (Sentier Véloroute des Baleines), a beautiful area on the Côte-Nord, in the heart of Les Escoumins. Just a stone's throw from the St. Lawrence River, these facilities couldn't be better located!
To be honest, the Sentier du Moulin represents an important achievement in many aspects. Indeed, the AtlasBarz team has long wished to deliver modules next to our majestic St. Lawrence River; offering a splendid view on most of the exercise stations, it is an unprecedented success for AtlasBarz.
Also, the training course now offers another achievement with red modules, which is becoming more and more popular!
Installation in 2020 of multifunction benches, exercise benches, and accessible support
Installation of a training course on the Sentier Véloroute des Baleines, near the Les Escoumins - Trois-Pistoles ferry terminal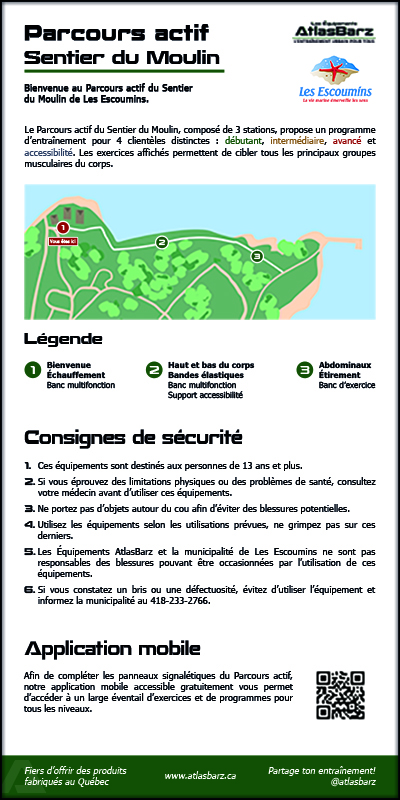 Outdoor training modules
The site consists of 3 stations that can accommodate a total of more than eight users simultaneously: a multi-function bench, a V2 multi-function bench with accessibility support, an exercise bench with lateral support.
Among these modules, we have delivered our new V2 multifunction bench. This bench offers a wide range of exercises for all the main muscle groups of the body and is an excellent companion to our standard multifunctional bench.
Finally, the last station presents a space for muscle strengthening and stretching. This is where we find our exercise bench.
Station 1 : Warm Up
Station 2 : Upper and Lower Body with Elastic Bands
Station 3 : Abs and Stretch